About Us
Cherry Creek Restaurant is Winnipeg's top family-friendly restaurant. We have been serving Winnipeg for over 30 years, specializing in fish & chips, and are dedicated to serving the best, high-quality food. We invite you to come and taste the authentic flavours of our delectable dishes, and order from Cherry Creek Restaurant today!
To start, try some of our customer favourites, such as Cherry Creek's original style of crispy battered fish served with fries and tartar sauce with lemon, as well as the Chicken Finger Basket - crispy breaded chicken fingers served with fries and homemade honey dill sauce. We also serve a great variety of freshly made wraps that will surely hit the spot! Try the Cajun Chicken Wrap or the Chicken Vegetable Wrap.If you are feeling more adventurous, try our exciting Korean dishes. Our main chef has perfected the authentic and delicious flavours of Korean cuisine. Popular choices include the Korean Beef BBQ - Bulgogi, a Korean dish consisting of steamed rice with beef and onions, simmered in a mildly sweet sauce flavour, as well as the Rice Mixed with Vegetables and Beef and the sweet and savory Korean Glass Noodles dish. Of course, you can also try one of our delicious Asian Fusion dishes like the Original Pad Thai.Are you getting hungry? We invite you to come and treat your family to an outstanding night out of great company, food, and service! Whether you are picking up dinner, looking for a new restaurant to dine in, or going out for date night, our restaurant is perfect for any occasion! Don't wait any longer, and order from Cherry Creek Restaurant today!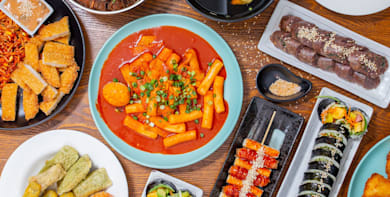 Contact Us
Find Us
393 Portage Ave, Winnipeg, MB R3B 0G9, Canada, Winnipeg, R3B 0G9
Opening Hours
Wednesday
11:00 AM - 5:30 PM
Thursday
11:00 AM - 5:30 PM
Friday
11:00 AM - 5:30 PM
Saturday
11:00 AM - 5:30 PM
Please note, delivery times may vary.
We deliver to
R2C, R2G, R2H, R2J, R2K, R2L, R2M, R2R, R2V, R2W, R2X, R3A, R3B, R3C, R3E, R3G, R3H, R3J, R3L, R3M, R3N, R3P, R3T, R3W